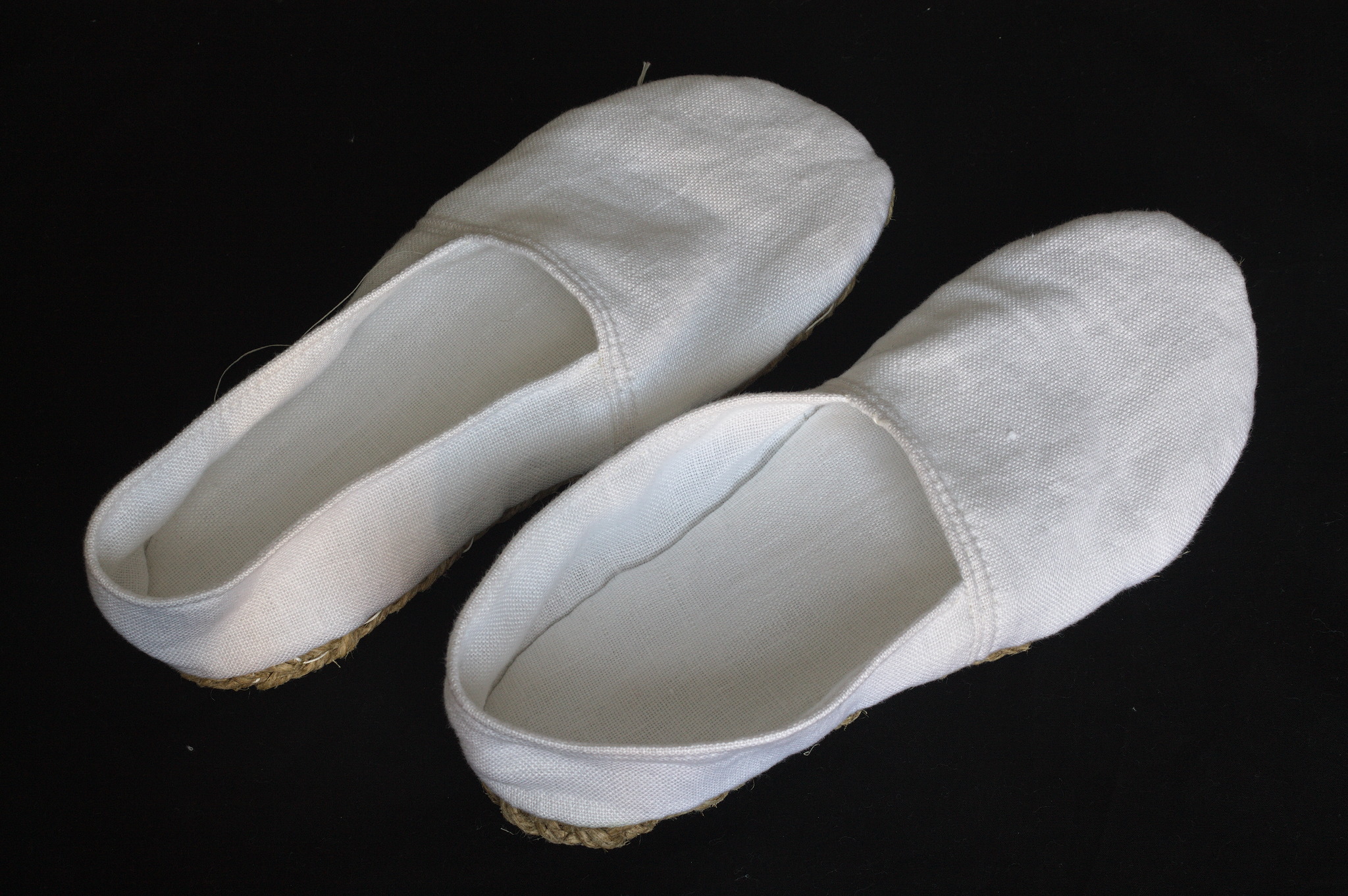 A simple pair of fabric slippers with a padded sole.
Depending on the materials used, especially that of the sole, these can be suitable for either indoors or outdoors wear.
As a small project with fiddly curves they are especially suitable for handsewing, but can of course also be sewn almost completely by machine.
~25 cm canvas or other fabric;

~25 cm cotton batting or other padding material (optional).
As the fabric, cotton or linen canvas is a pretty standard choice; toweling materials can also be used, or fleece for a pair of winter slippers.
For a more technical look, you can use mesh for the uppers and back; in that case the sole lining will have to be different, a fast drying but confortable material like polycotton is a good choice.
For padding, cotton batting or even a few layers of scrap fabric are a good fit for fabric slippers; for technical ones you can use EVA foam or a similar material.
sewing thread to match the fabric;

strong thread (e.g. thick waxed linen) to attach the soles to the slippers;

1-3 m cotton yarn for cording;

two soles or sole material that can be cut in the shape provided.
My fiber craft patterns site has instructions for braided twine soles that can be used for fabric slippers.
For technical slippers you can use rubber sole sold in sheet; note that in that case the padding material will have to be suitable for glueing the sole to it.
Download the pattern: slipper.val.
You need to take the following measurements:
foot_width

(E01)

at the widest part of the foot;

foot_lenght

(E03)

from the back of the heel to the tip of the toes;

foot_circ

(E03)

around the widest part of the foot.
The file foot.vit has the required measurements.
upper_length

from the point of the toe to the end of the uppers: default is half the length of the foot;

back_height

height of the heel guard at the back;

sides_height

height of the heel guard at the sides'

sewing_allowance

basic sewing allowance: 1 cm is a good choice, but if you're using thicker padding materials or more heel layers you may have to increase it to 2 cm to be able to wrap it around.